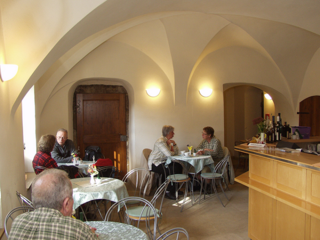 You can choose between a refreshing snack, sweet pastries and hot and cold drinks at our cafeteria. There are 40 seats outside, with a view to the Converses' House, the inside area seats 20.
Altzella Monastery Park cafeteria
Our museum shop and service area or on the ground floor of the Scriptorium. You can buy books, brochures and booklets on the life, customs, traditions and the know-how of the Cistercian monks. Souvenirs, choice wines and organic products from the region are awaiting you.