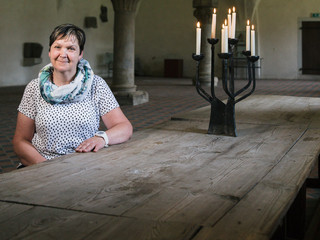 The Altzella Monastery Park ranks among Germany's most beautiful garden parks. Its idyllic character, which had artists, such as Caspar David Friedrich and Ludwig Richter, romanticize it, is enchanting still today. To let our visitors feel comfortable also in the future, we are taking every effort to make your stay as pleasant as possible. Here you can find all valuable information for your visit.
Contact
Altzella Monastery Park
Zellaer Straße 10 | 01683 Nossen
Property of State Palaces, Castles and Gardens of Saxony, non profit
+49 (0) 35242 504-50
altzella@schloesserland-sachsen.de
Opening hours

Monday:

Closed

Tuesday:

10:00 am - 05:00 pm

Wednesday:

10:00 am - 05:00 pm

Thursday:

10:00 am - 05:00 pm

Friday:

10:00 am - 05:00 pm

Saturday:

10:00 am - 06:00 pm

Sunday:

10:00 am - 06:00 pm
Information:
November 4 2019 to March , 2020: closed
Subject to modifications.
Admission prices
Full rate :

4,00 EUR

Children aged 6-16 :

1,00 EUR

Free entry : i

0,00 EUR
Other discounts:
Seasonal ticket Altzella Monastery Park:

9,00 EUR
Information:
Discount Pass "Sieben auf einen Streich" ("Seven at One Blow"): valid for Altzella, Gnandstein, Kriebstein, Mildenstein, Nossen, Rochlitz and Colditz. When submitting a full-rate ticket from one of the above properties, visitors are granted the reduced rate at the 2nd property. Those who visit all 7 properties with their "Discoverer's Pass" will be admitted to the last property for free. Subject to modifications.
Benefits with the schloesserlandCARD
Permanent exhibition
Free admission to the permanent exhibition

Special exhibition
Free admission to the special exhibition

Arrival & map
Next City: Dresden (30 km)
Arrival information:
By car
via A14 (Leipzig - Dresden), exit Nossen Nord, follow the signposts to Nossen and the touristic signposts to Altzella Monastery Park
via A4 (Chemnitz - Dresden), exit Siebenlehn, the road is signposted alike
via B101 (Meissen - Freiberg)
via B175 (Doebeln - Nossen)
via S36 (Waldheim - Nossen)
By public transport
Parking facilities
There is a parking lot directly in front of Altzella Monastery Park. (On Weekends also in front of the Saxon State Office for Environment, Agriculture and Geology (LfULG, Waldheimer Str. 221, Nossen).