The exhibition rooms at Altzella Monastery explain the history of the monastery and of the religious order, show items found in the demolished monastery buildings and present the burial place of the Wettins. A special exhibition topicalizes historical mining in the Saxon and Bohemian Ore Mountains, which had also started out from Altzella.
Permanent exhibition
Burial ground of the Wettins
In the Mausoleum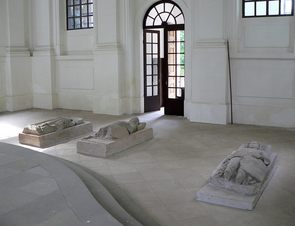 The Mausoleum completed in 1794 accommodates the burial ground of the Wettin founding family. A total of 27 members of the House of Wettin were buried in the crypt underneath the marble memorial stone. In a guided group tour, you can see the interior of the Mausoleum. A little exhibition in the anteroom informs about the burial ground of the founding family and the creation of the romantic landscape park.


Contact
Altzella Monastery Park
Zellaer Straße 10 | 01683 Nossen
Property of State Palaces, Castles and Gardens of Saxony, non profit
+49 (0) 35242 504-50
altzella@schloesserland-sachsen.de
Admission & opening hours
Admission:
Full rate 4,00 EUR
Reduced rate 3,00 EUR
Full rate: EUR 4.00
Reduced rate: EUR 3.00
Children aged between 6 and 16: EUR 1.00
Group rate for school students (15 people and more): EUR 1.00 per person
Group rate (15 people and more): EUR 3.00 per person
Combined ticket: Altzella Monastery Park and Nossen Castle
Full rate: EUR 6.00
Reduced rate: EUR 5.00
children aged 6-16 Jahre: EUR 2.00
Group rate (15 people and more): EUE 5.00 per person
Other concessions
Seasonal ticket Altzella Monastery Park: EUR 9.00
Discount Pass "Sieben auf einen Streich" ("Seven at One Blow") *
Guided tours
Guided tour surcharge: EUR 2.50 (in German), EUR 5.00 (in English) per person
Guided tour surcharge for pupils: EUR 1.50 per person
Minimum surcharge for guided tours: EUR 35.00
Free admission:
Children aged 5 or younger

People visiting the castle on their birthday

Accompanying adults of severly disabled people (entry »B« iin the disability pass)

Tour guides

Tour bus drivers accompanying a tour group

1 accompanying adult per 10 pupils

Journalists for reporting purposes (valid identification required)

Holders of the schloesserlandPASS
* Discount Pass "Sieben auf einen Streich" ("Seven at One Blow"): valid for Altzella, Gnandstein, Kriebstein, Mildenstein, Nossen, Rochlitz and Colditz. When submitting a full-rate ticket from one of the above properties, visitors are granted the reduced rate at the 2nd property. Those who visit all 7 properties with their "Discoverer's Pass" will be admitted to the last property for free.
Opening hours
March 30 to November 3, 2019
Tue - Fri: 10:00 am - 5:00 pm
Sat, Sun, public holidays: 10:00 am - 6:00 pm
November 4 2019 to March , 2020
Subject to modifications.